Savior (救う者, Sukuumono) is Night 53 of the Magi manga series.
Characters in Order of Appearance
Characters in bold denote the character's proper appearance.
Characters in italic are only seen briefly and have yet to make a proper appearance.
Magic in bold denotes the magic's first appearance.
No magic appeared in this chapter.
Summary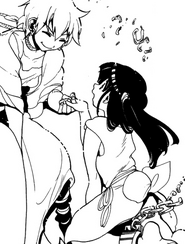 Sahbmad cites Ahbmad, saying that his brother thought that since people can reproduce, which means getting money forever, and the Kou Empire would sell them to other countries. Upon hearing that, Morgiana urges Alibaba to stop his brother. After that, Sahbmad mentions that Ahbmad will marry one of Kou's princesses and finalize the slavery project. He then leaves, leaving everything in Alibaba's hands, though Sinbad promises to stop him. Afterwards, Alibaba goes unconscious and Aladdin and tells him what has happened. He wonders if he's capable of doing such a thing, mentioning real heroes, such as Sinbad, to whom he can't compare. Meanwhile, Sinbad wonders why Aladdin chose someone as weak and without confidence as Alibaba, from whom they cannot expect anything, especially not ruling the country. An angry Morgiana interrupts them, and after filling them in about the situation, she tells them that even though Alibaba looks like he has no confidence, he saved her when she was a slave. She states it wasn't just anyone, but him. She says she feels that the one who will be able to save this country is him and then she leaves the room. Sinbad thinks that it seems that it's too early to determine whether Alibaba would be a suitable candidate as a king or not.
Community content is available under
CC-BY-SA
unless otherwise noted.